10 Things You Need To Know About Ebola Right Now
Dr. Vanya Gant has provided 10 important facts about the current Ebola outbreak in Africa and how it could impact you.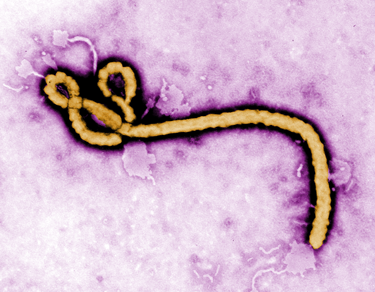 Photo credit: Frederick A. Murphy, Centers for Disease Control (www.cdc.gov)
Ebola Virus Disease ("Ebola")
Ebola (previously known as Ebola hemorrhagic fever) is a rare but severe disease, which is caused by Ebola virus. It was first recognized in 1976 and has caused sporadic outbreaks ever since in several African countries.
Largest Ever Outbreak
More than 21,000 cases have been reported since March 2014, of which there have been more than 8,400 deaths. This is the first documented Ebola outbreak in Africa and the largest ever known outbreak of this disease.
There are currently no signs that the outbreak is coming under control, with new cases reported daily from both known and new outbreak areas. Cases of virus transmission continue to emerge in both the community and health-care settings. The Centers for Disease Control and Prevention predicts that the number of cases in Sierra Leone and Liberia could explode to as many as 1.4 million by the end of January.
Why Ebola is Spreading in Africa
The continued spread of the disease probably relates at least in part to issues of strong, local cultural beliefs (such as washing the bodies of the dead, and the stigma surrounding the disease); overpopulation and crowding; migration of people across borders; a perception by local people that the healthcare professionals attempting to help are making things worse; and inadequate human resources on a background of deep poverty.
How is it Transmitted?
The virus is transmitted to people initially from wild animals, and then from person to person via contact with blood and body fluids. In addition, contaminated objects (clothes, needles) can also transmit infection if handled. Airborne transmission is thought to be limited to those viruses carried in large droplets of human secretions.
The Course of the Disease
Infection with Ebola virus leads to sudden onset of fever, chills, muscle aches, headache, diarrhea, nausea and vomiting, with sore throat and in some cases a rash. This will develop as early as 2 days after infection and as late as 21 days. This is then followed by impaired kidney and liver function and stomach pain, and in some cases uncontrolled bleeding, both external (such as through puncture sites) and internal (causing vital organ damage). Ebola is fatal in 50 to 90% of cases who develop these signs and symptoms.
Ebola Looks Like Many Other Illnesses
Many other far more common illnesses in these countries start off like Ebola, such as flu, typhoid, and malaria. This makes prompt and early assessment even more important - especially since survival seems better in those cases identified early.
When Are You at Risk?
It is very important to remember that you will not be at risk of Ebola infection unless you have been in close contact with people with the above symptoms. You cannot catch Ebola from people who are well, with the exception of close contact of a sexual nature, as patients who have recovered may still be infectious for a considerable period of time.
How to Seek Help if You Think You're Infected
Nevertheless, if you feel unwell with symptoms such as fever, chills, muscle aches, headache, nausea, vomiting, diarrhea, sore throat or rash within 21 days of coming back from a known outbreak area you should stay at home and immediately telephone relevant health services. These services will provide advice and arrange for you to be seen in a hospital if necessary, so that the cause of your illness can be determined as quickly as possible. Unless you have had direct contact with sick people in these countries, another diagnosis for which treatment is available (such as malaria) may be made, and you will be treated.
Humanitarian Workers - Infection Control
For those performing humanitarian work in these countries, the risk of Ebola infection will relate entirely to the quality and consistency of your personal Infection Control procedures and discipline. Perfect and vital barrier technique includes wearing protective gowns, gloves, masks and eye protection or face shields, and the careful removal of these after use. WHO recommendations address direct patient care, laboratory activities, post mortem examinations, movement and burial of human remains, cleaning and waste disposal.
In conclusion
Don't go to these countries unless you really have to
If you are there, be very careful to avoid crowded public places and close contact with others
If you are there for humanitarian purposes, go prepared, trained, vigilant, and equipped with personal protective equipment